News and Events
OFC Technical Exhibition 2022

OFC is the largest global conference and exhibition for optical communications and networking professionals. The program is comprehensive – from research to marketplace, from components to systems and networks and from technical sessions to the exhibition. For more details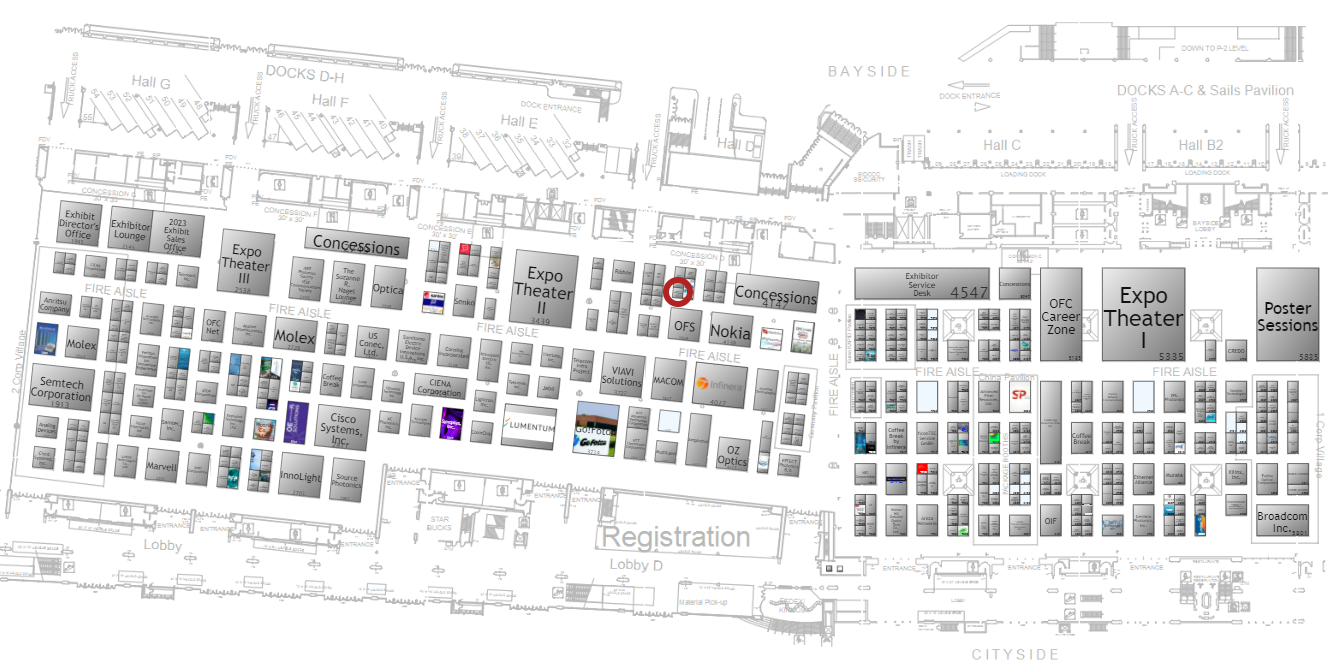 Technical Conference:06 – 10 March 2022
Exhibition:08 – 10 March 2022
San Diego Convention Center
San Diego, California, USA
Space-Qualified EDFAs rated for LEO and GEO applications to be qualified in the second half of 2017
Radiation hardened fiber optics and control electronics are implemented in this product to the level of 100krad. A low noise preamplifier and a high-power booster amplifier are incorporated into a single compact package. These Space-qualified EDFAs are scheduled to be launched in the first quarter of 2018.
Hi-Rel EDFA is deployed for subsea applications starting in January 2017
A DWDM gain flattened EDFA, built with Hi-Rel. optical components and redundant control electronics, is proven with 25+ years lifetime and reliability. It is developed by Nuphoton and deployed by the customer for subsea LIDAR applications in January 2017.
The module has four EDFAs in parallel in one of the most compact packages in the industry, achieving FIT rate of 50 for all amplifiers and its control electronics.
1550nm laser transmitter, 30 months successful service at International Space Station
A master-oscillator power amplifier (MOPA) based 1550 nm wavelength fiber laser transmitter has been developed for Space-to-Earth communication application, utilizing Telcordia rated 1550 nm seed laser, pump lasers, and fiber optics. With adequate pre-screening of electrical components, the fiber laser transmitter has been in operation since its original launch in April 2014, for 30 months. This presents as a relatively cost-effective route for low-earth-orbit optical communication as well as LIDAR applications.
Nuphoton, in collaboration with Jet Propulsion Laboratory, Pasadena CA, will be presenting a paper covering this topic at the SPIE Lidar Conference in August 8th, 2017. The paper number is 10406-16. The link is below:
http://spie.org/opo/conferencedetails/lidar-remote-sensing-environmental-monitoring
Introducing 2 micron lasers
Murrieta CA, (February 2011) – Nuphoton Technologies, Inc. has introduced 2 micron fiber lasers.
NP7000 series 2 micron lasers are used in medical, surveillance/reconnaissance, countermeasures, medical and gas spectroscopy applications. These are CW lasers with up to 5W optical output.
Introducing S-band amplifiers
Murrieta CA, (January 2011) – Nuphoton Technologies, Inc. has expanded its fiber amplifier portfolio by adding S-band amplifiersNP2000-S series S-band EDFA provides amplification in the wavelength range 1510 – 1518nm. This EDFA can be used to add monitoring, controlling and communication channels to the existing telecom networks. The unit comes with control software and RS232 interface. Also available in rack mount / bench top chassis.
Nuphoton launches NP5000 family of green lasers
Murrieta CA, (December 2010) – Nuphoton Technologies, Inc. has unveiled green lasers for industrial applications.
NP5000 series green lasers are well suited for applications like materials processing, spectroscopy, trimming, marking and photovoltaic scribing applications. These are pulsed lasers with 1.0ns to 2.5ns pulse width.
Nuphoton launches 'Universal' EDFAs
Murrieta CA, (November 2010) – Nuphoton Technologies, Inc. is introducing NP2000U series 'Universal' EDFAs.
NP2000U Universal EDFAs overcome the limitation of traditional EDFAs for lab applications. This EDFA can be re-configured to a wide range of input/ output/ gain conditions. It is an ideal instrument for any communication, test & measurement or laboratory applications.
Nuphoton launches Raman amplifier
Murrieta CA, (July 2010) – Nuphoton Technologies, Inc. has added Raman amplifier to its product portfolio.
NP6000 Raman Amplifier is targeted towards Ultra Long Haul Communication networks. This module can incorporate up to 4 pumps and can provide up to 750mW output. The module comes with integrated electronics and RS232 / I2C interface. The module is a Class IM amplifier and incorporates Automatic Power Reduction (APR) mechanism for safety.
Nuphoton introduces 1W LIDAR source in compact footprint
Murrieta CA, (March 2010) – Nuphoton Technologies, Inc. has launched 1W LIDAR source in compact footprint.NP4000MOPA-1W LIDAR source provides 15uJ pulse energy in a compact footprint of 120 x 120 x 25mm. The unit can provide 5ns pulse width. The unit comes with 30kHz internal trigger for uninterrupted operation in case of trigger loss. The unit has less than 20W power consumption and weighs less than 500gms.The LIDAR source is available in 1064nm and 1550nm wavelengths.
Nuphoton launches multimode fiber amplifier
Murrieta CA, (October 2009) – Nuphoton has added multimode fiber amplifier to its fiber amplifier products portfolio.
NP2000RS-MM multimode fiber amplifier is available with control electronics and RS232 interface.
JPL uses Nuphoton laser for interplanetary optical communications experiments
Murrieta CA, (February 2009) – JPL published results of it research and experiments on pulsed fiber based master oscillator power amplifier laser at 1550 nm to support moderate data rates with high peak powers in a compact package suitable for interplanetary optical communications.Nuphoton's NP3000MOPA series products were used for this research.
The results were published in Proc. of SPIE Vol. 7199, Free-Space Laser Communication Technologies XXI titled: Robust short-pulse, high-peak-power laser transmitter for optical communications.
Nuphoton introduces LIDAR source in MSA footprint
Murrieta CA, (September 2008) – Nuphoton Technologies, Inc. has added LIDAR source in MSA footprint to its fiber laser portfolio. NP2000MOPA-100 is a compact LIDAR source in MSA footprint, measuring 90mm x 70mm x 20mm.
This unit can provide up to 100mW avg.output power and 4kW peak power. Weighing less than 1lb and with a power dissipation of less than 10W, it is an ideal replacement of microchip disc laser for LIDAR equipment.
Nuphoton Launches Ultra Compact EDFA with Electronics
Murrieta CA, (March 2008)
NP2000HR series Half MSA footprint Erbium Doped Fiber Amplifiers are designed for power dissipation sensitive, space limited single channel and DWDM fiber-optic communication applications. The amplifier has low power dissipation (< 2.5W). This stand-alone unit requires +3.3VDC bias and has dedicated digital and analog circuitry for precise control of the EDFA along with alarms and monitors for low input and output powers, laser diode current and case temperature. All the operating parameters can be controlled through RS232 or I2C interface and comes with user-friendly software.
Nuphoton Unveils Ultra Compact EDFA
Murrieta CA, (September 2007) – Nuphoton Technologies, Inc. has added the Ultra Compact EDFA to its product portfolio.
Measuring 70mm x 40mm x 12mm, this EDFA has the smallest package available in the industry. EDFA in this package can provide up to 120mW output power.
The EDFA biasing and control is through a 6pin connector. This unit does not have any built in electronics.
Nuphoton Obtains AS9100 Certification
Murrieta CA, (August 2007) – Nuphoton Technologies, Inc. has complemented its ISO9001:2000 certification with AS9100:2004 RevB certification. According to the company, AS9100 certification is a significant step in establishing Nuphoton as a serious player in the Defense/Aerospace industry.
Dr. Ramadas Pillai, President & CEO commented that the AS9100 reconfirms Nuphoton's dedication to Aerospace business while maintaining utmost commitment to quality.
During this year Nuphoton has also deployed lean practices throughout the organization and has plans to implement rapid prototyping.
Nuphoton Receives ISO 9001:2000 Certification
Murrieta CA, (July 2006) – Nuphoton Technologies, Inc has received the ISO 9001:2000 certification for its quality management system.
Early June, independent certification organization, Eagle certified that Nuphoton systems comply with the ISO 9001:2000 standard. The ISO certification applies to design and manufacturing of EDFA, ASE light sources, LIDAR sources with general engineering services.
The ISO certification reassures our customers on Nuphoton's commitment to quality.
Dr. Ramdas Pillai
Nuphoton President and CEO.
Nuphoton plans to implement AS9100, Lean and Six Sigma processes in the near future.
Nuphoton Technologies, Inc. offers Ethernet interface option for EDFAs
Murrieta CA, ( July 2006) – Nuphoton Technologies, Inc., manufacturer of the leading-edge technology fiber optic communications products now provides Ethernet communication option for its rack mount EDFAs and gain blocks.
The Ethernet option provides remote management capabilities to the EDFA. With this option, the EDFA no longer needs to be connected to the monitoring / controlling computer directly. It can be connected anywhere in the network and be accessed through an IP address.
The EDFAs can be ordered with Ethernet interface option or RS233 interface option.
Nuphoton Releases EDFA with Extended Operating Temperature
Murrieta CA, ( April 2006) – Nuphoton Technologies Inc, a fiber optic amplifier and fiber laser specialist, has released a new Erbium Doped Fiber Amplifier (EDFA) with extended operating temperature range. This innovative product NP2000-XT offers extended operating temperature range from -40 to +85 degree C, beyond the Telecordia requirement of -5 to + 65 degree C. This new product complements the existing product portfolios for the FTTH, CATV and Aerospace applications.Development of NP2000-XT was in response to customer demand for an EDFA that can operate in the extreme temperatures imposed by demanding applications like FTTH. In a typical FTTH environment, EDFAs can be deployed in locations like on top of electrical poles or edges of building walls. In these cases the traditional temperature protection measures like repeater sheds or chambers may not be practical or cost effective. NP2000-XT is an ideal solution for such environments.Fig. 2 shows the output power, gain, and noise figure of Nuphoton EDFA gain block at temperatures of -40, 25, and 83oC. As demonstrated in Fig.2, this EDFA can provide output power > 18dBm across the C-band in the -40 to +85 oC operating temperature range.The typical electrical power consumption is under 5W.NP2000-XT is a highly reliable optical amplifier, with comparable MTBF of conventional amplifiers.
Goodrich Sensor Systems awards Nuphoton Best Supplier of the year 2005
Burnsville, MN, ( November 2005) – Nuphoton was awarded the Best Supplier of 2005 for innovation, in the annual supplier conference of Goodrich Sensor Systems. Nuphoton was selected from amongst the 63 suppliers of the Sensor Systems division of Goodrich.Nuphoton was lauded for its product excellence and commitment to customer satisfaction. Nuphoton had earlier achieved a 100% rating for its delivery performance.
This is a proud moment for us and a recognition of our commitment to technology innovation and high quality product development.
Dr. Ramdas Pillai
Nuphoton President and CEO.